This website is on-line in march 2017.
The website does not have a fixed deadline for updates.
© Use data zoological collections Montifringilla nivalis
Data about zoological collections including snowfinches (Montifringilla nivalis) posted in the website snowfinch.eu, are protected by copyright and are of exclusive property of the Museums the data belong to.
Use of Cookies
With reference to the regulation "Simplified Arrangements to Provide Information and Obtain Consent Regarding Cookies - 8 May 2014" of the Italian data protection Authority, in this website there is no use of Cookies of any kind.
The email addresses published on this website are deliberately provided by their own users and the ownership of the site is relieved of all responsibility, and the same applies to names, materials and contacts supplied by the different contributors.
The website is dedicated exclusively to dissemination of knowledge and research topics, and does not cover political matters.
This website originated from the informal collaboration of several single individuals and research groups, with the only purpose of sharing and disseminating their experiences in field ornithology.
All information on this website are provided for information purposes only, therefore, errors, inaccuracies or omissions may occur.
www.snowfinch.eu assumes no responsibility for errors and omissions on the website.
The material on the website was largely produced by the owner and the contributors; in the case of material produced by others, the author(s) has (have) been clearly reported.
Other material was taken from the internet and is apparently in the public domain and therefore free to download and use in personal web pages.
Logos are the property of their respective authors.
All the photos are in private property and protected by copyright and can not be duplicated freely.
Duplication of photos is prohibited. The site owners disclaim any liability to those who have decided to post their photos, in the case of unauthorized acquisition by a third party.
Contact & Communication
Users contacting this website and/or its owners do so at their own discretion and provide any personal details requested at their own risk.
All efforts have been made to ensure a safe and secure form for email submission, but users using such form do it at their own risk.
External Links
Although this website aims to include only high-quality, safe and relevant external links, users should always adopt a policy of caution before clicking any external web links posted on this website.
The owners of this website cannot guarantee or verify the contents of any externally linked website despite their best efforts.
Users should therefore acknowledge that they click on external links at their own risk and this website and its owners cannot be held liable for any damages or implications caused by visiting any external links mentioned.
• Web site manager: association Italy "Gruppo Ornitologico Snowfinch Onlus"
• All photos and text copyright © by www.snowfinch.eu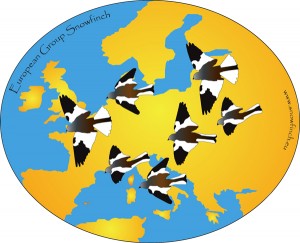 Logos design author Adriano De Faveri
Logos copyright © by www.snowfinch.eu